折叠式环保型猫屋
Folding environmentally friendlycat house
An eco-friendly cat house for cat owners
New Youth Lifestyle
2023年
关于猫屋项目
关于猫屋项目
1、经过用户数据验证,猫咪喜欢睡在纸箱里,猫的正常体温为38.7摄氏度左右,高于人类。纸箱由木质纤维制成,纸箱内空气较多,具有良好的隔热性,可以帮助猫咪保持体温。
2、这款猫窝外形尺寸为 17.7x13.8x15.4in(450x390x350mm)空间宽敞,可容纳 2 只 22 磅重的猫咪。
3、与木质/塑料猫屋相比,纸板猫屋采用立方体设计, 由4块硬纸板组成,只需4个步骤即可轻松安装,配有18对塑料螺丝,增强了猫屋的稳定性,不易碎裂和散架,材料环保无毒害,可放置于客厅、卧室、办公室、车库等环境下使用。
4、根据研究数据显示,猫咪的眼睛能分辨的颜色比较少,通常只能分辨出蓝色、绿色、红色、黑色、灰色和白色,其中"蓝色"是猫咪看得最清楚的颜色。因此为了方便猫咪易于识别猫屋的位置,外观设计为蓝色,让猫咪更加喜欢和依赖猫屋。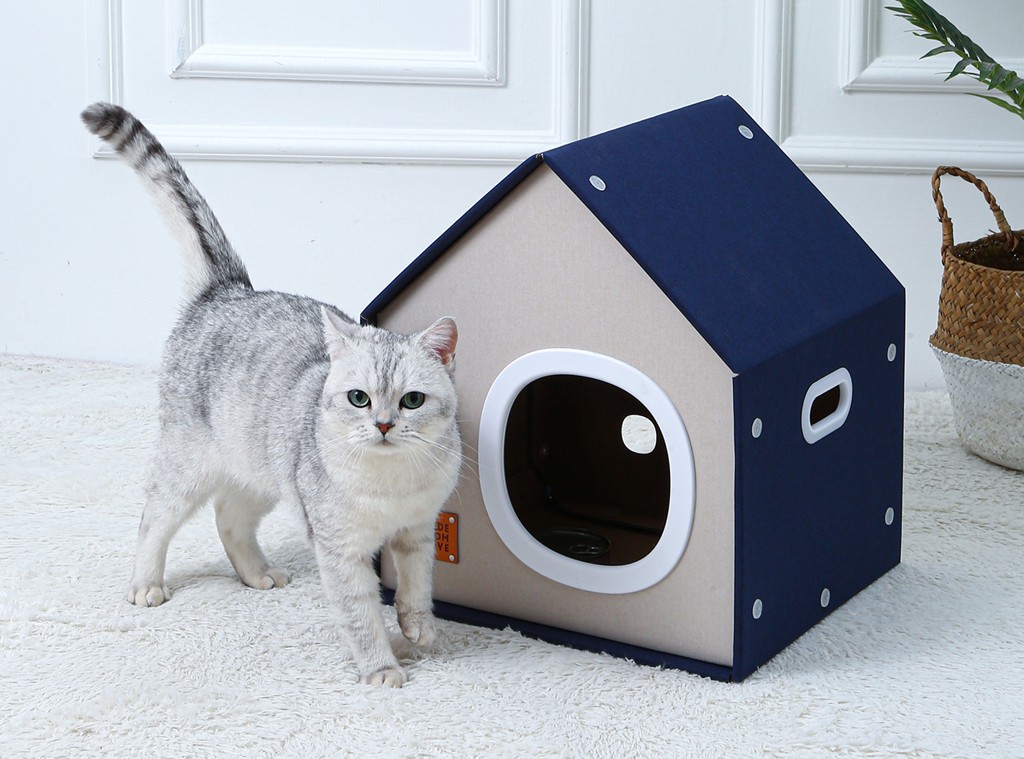 Appearance creative description
This is an environmentally friendly collapsible DIY cat house, the appearance of which is inspired by the shape of the town houses in Europe. It mainly uses high hardness industrial corrugated paper material, through the laminating process of moisture-proof imitation linen adhered to the cardboard surface, so that the product appearance looks more exquisite, but also enhance the strength and durability of the cat house.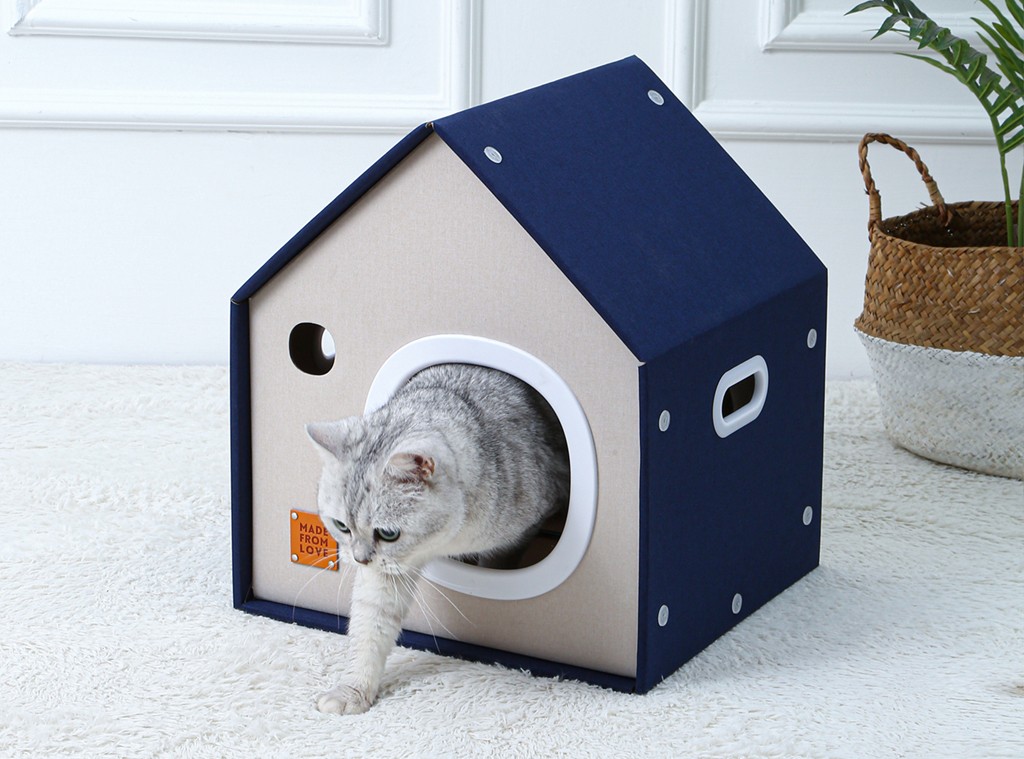 Cat house selling points
About this item
1. verified by user data, cats like to sleep in cardboard boxes, and the normal body temperature of cats is about 38.7 degrees Celsius, which is higher than that of humans. The cardboard box is made of wood fiber, there is more air inside the cardboard box, which has good insulation and can help cats keep their body temperature.
2. This cat house form factor is 17.7x13.8x15.4in (450x390x350mm) spacious and can accommodate 2 cats weighing 22 pounds.
3. Compared with the wooden/plastic cat house, the cardboard cat house has a cube design, consisting of 4 pieces of cardboard, which can be easily installed in only 4 steps, with 18 pairs of plastic screws, which enhances the stability of the cat house, and it is not easy to break and fall apart, and the material is environmentally friendly and non-toxic, which can be placed in the living room, bedroom, office, garage and other environments to use.
4. according to research data, the cat's eyes can distinguish fewer colors, usually can only distinguish blue, green, red, black, grey and white, of which "blue" is the color that cats can see most clearly. Therefore, in order to facilitate cats to easily identify the location of the cat house, the appearance of the design for the blue, so that cats more like and rely on the cat house.